2019 Flooring Trends: What to Expect from the New Year
Holiday season is almost over and, before you know it, 2018 will be but a memory. While this year has been full of beautiful flooring styles and innovations, we're excited to show you what 2019 holds. If you're thinking of giving your home a new look for the new year, see what 2019 flooring trends can help give your home the perfect makeover.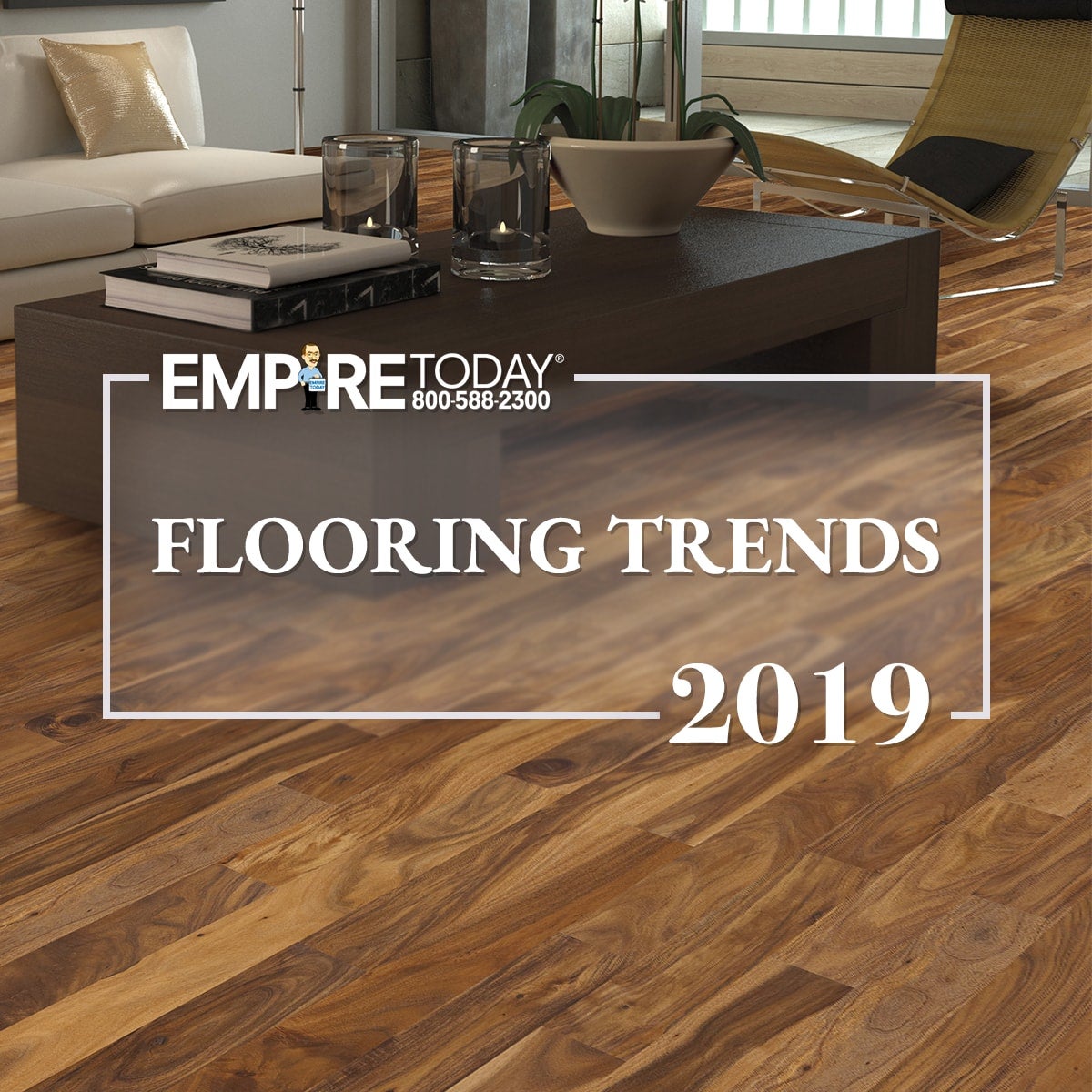 Break the Rules with Wood Look Waterproof Flooring
There was a time where bathrooms, kitchens, and other moisture-prone areas were restricted to tile. However, homeowners want the wood look in those areas of the home. With other waterproof flooring options, you can have the best of both worlds! Laminate and vinyl plank flooring are now being made to withstand water and moisture. This means you can have a realistic hardwood look in any room without worrying about warping and buckling from water damage.
Check out Beach House laminate and Grand Junction vinyl plank from Empire Today to see wood look waterproof flooring with a stylish aesthetic.
Get Versatile with Vinyl
When it comes to hard surfaces, there's almost no look vinyl can't accomplish. Sheet vinyl is known for being a budget-friendly, not-so-sophisticated choice, but vinyl's luxury options have caused it to gain popularity in homes. Luxury vinyl tile (LVT) gives a realistic stone or ceramic look with durability and easy maintenance. Plus, you can have it installed with or without grout. Then there's Luxury vinyl plank(LVP). It looks and feels like genuine hardwood while having durability for a lasting style. While laminate has been a top alternative to hardwood, vinyl has added more details, colors, and functionality to make it a competitor in the wood look category. You can definitely expect to see more home use vinyl flooring throughout 2019 to achieve a more affordable yet modern design.
High Color Variation Gives the Room a Unique Essence
2018 was the year of neutral, dark, and light tones. 2019 is the year where you can have all of those trends combined. For wood looks, this trend means each plank has a variation of hues such as blonde, walnut, and honey to give the floor a unique personality and naturally distinct style. High color variation for wood looks is nothing new. However, its distinct look has been generally overshadowed by more solid color tones. With an increasing demand for high color variation, the new year has something different in store. If you're not afraid to be bold with a rustic flooring design, this is the flooring trend for you. Chateau from Empire Today can give you a natural wood look with color variation that's bold enough to stand out.
Go Big with Large Format Tile
Not only does large format tile have a stylish and classic look, but its variable style and durability make it a great option for a modern family. Larger tile also means less grout, making it easier to clean. This can also help the room appear bigger with fewer lines creating a busy look. Want the look of luxury, but on a budget? This trend isn't strictly for ceramics. Vinyl tile can help you achieve this look for less.
2019 Flooring Trends Brings Comfort with Style
Pattern carpets were the "it" thing in 2018 and they will continue to be popular in 2019. However, geometric patterns will be the way to go. Bold or subtle, adding shapes to your floors can give the room a fun flair. 2019 flooring trends are about taking risks, so bold colors will also be on the rise. Neutrals are always in, but a vibrant color can an easy way to modern nice your home while making it pop. If you're looking to go for subtle shapes but bold colors, Marquis from Empire Today is the perfect choice for your home.
Flooring That's Good for Your Home and the Environment
With the talk of our planet's future on the rise, going green has naturally (no pun intended) become a popular lifestyle. This has even trickled down to the type of flooring being used in homes. Empire offers an array of eco-friendly flooring options to help you make your home a bit greener. Take our hypoallergenic HOME Fresh carpet for example. Not only is it 100% recyclable, but it doesn't contain latex or volatile organic compounds(VOCs). This means you can reduce your carbon footprint while improving the air quality in your home. Does it get any better?
Don't wait to give your home the look it deserves, start the new year with style! Whether it's a new color or a functional wood look, Empire Today can help you get these 2019 flooring trends the easy way.