Wood Laminate Flooring
The look of real wood, in a durable, easy-to-maintain surface
Shop All
What is Wood Laminate Flooring?
Laminate wood flooring is a durable composite flooring material that convincingly mimics the look of real wood. It's formed by sandwiching a high-density fiberboard core between a photorealistic image of wood grain and a stable melamine backing. Each plank is then protected by a scratch-resistant topcoat.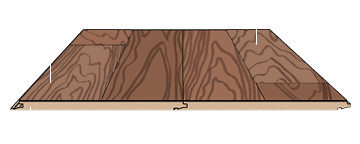 Available in wide variety of wood species, colors, textures, and plank widths to complement any home's décor
Highly durable: laminate wood works to resist most stains, scratches, fading, and overall wear and tear
Some laminate options are 100% waterproof
Shop Wood Laminate Flooring by Style or Color
One of the main draws of wood laminate flooring is the design diversity it offers. Laminate products are available in an exhaustive range of styles and shades, mimicking all the colors and grain patterns you'd expect in real wood flooring.
Why Should You Choose Wood Laminate Flooring?
If you're worried you'll have to sacrifice style or durability to save money on new floors, wood laminate is an excellent floor material to consider. Having laminate wood flooring installed in your home means you'll get to enjoy the classic aesthetic of hardwood floors, without the upfront cost or maintenance worries. The laminate wood from Empire® is a "set it and forget it" flooring, needing almost nothing beyond regular cleaning to stay beautiful for many years. It's resistant to most scratches, stains, wear, and fading, with many water-resistant and even fully waterproof options.
It also offers myriad aesthetic options. Because it uses a photorealistic image to mimic the look of wood, laminate can be created in any stain shade and grain patterns that are found in real wood—while avoiding unpredictable natural disfigurations like knots and burls. Some wood laminate flooring products are even available in distressed, textured, or hand-scraped variants.
Aqua Defense Waterproof Laminate Wood Flooring
Empire Today® Exclusive
Learn More
Fully Waterproof
While most wood laminate flooring is water-resistant, products with optional Aqua Defense protection are built to withstand heavy levels of saturation, and even standing water.
A Breeze to Clean
An added benefit of waterproof laminate is how much simpler it is to clean—feel free to regularly wet mop without worrying about damaging your floors.
Invisible, Lasting Protection
Aqua Defense is seamlessly integrated into the laminate planks. There's no visual difference between it and standard wood laminate, and it's not a sealant that requires regular reapplication.
Wood Laminate Flooring features
Want the style of wood but not the stress? You can have the best of both worlds with wood laminate floors
At eye level, laminate products are nearly indistinguishable from the real thing
Many wood laminate products offered by Empire are covered by limited lifetime warranties against wear, stains, fading, and more
From wide plank to white oak, all of today's popular wood floor trends are available in laminate products
Shop All WOOD LAMINATE