Sheet Vinyl Flooring
High-end flooring for a budget-friendly price
Shop All
What is Sheet Vinyl Flooring?
As the name suggests, sheet vinyl is a flooring material comprised of large sections of flexible vinyl. Sheet vinyl flooring is prized for its affordability and versatility, making it an excellent choice for breathing new life into a room while sticking to a budget.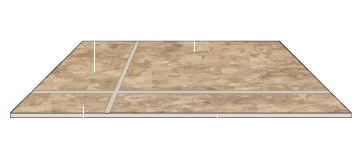 Gives the look of real hardwood, stone, or tile at a budget-friendly price
Resistant to most scratches, scuffs, stains, and water
Crafted in large continuous sheets that cover large areas with minimal seams
Shop Sheet Vinyl Flooring by Style or Color
You'll find no shortages of style when shopping for sheet vinyl flooring. Part of the allure of vinyl floor products is the design versatility they can provide, while also being an affordable, low-maintenance flooring option. Looking for a way to brighten up your basement on a budget, while adding some elegance? Consider a light-colored patterned vinyl sheet that mimics the look of a stone or tile flooring. Perhaps you love the warm tones of hardwood but don't want to deal with the worries that come with installing it in a kitchen or other high-traffic area of your home. You can achieve an almost identical aesthetic by opting for wood-look vinyl sheet flooring.
Why Should You Choose Sheet Vinyl Flooring?
One of the most common reasons that Empire's customers choose vinyl sheet flooring is because of its affordability. Whether in a newly-constructed home, a full gut rehab, or a simple aesthetic refresh of a tired room, new floors are likely to be one of the largest expenses of any home improvement project. Sheet vinyl flooring offers homeowners a way to stylishly upgrade any room in their home while keeping costs down. But it's important to emphasize that just because sheet vinyl floors are affordable, that doesn't mean that they compromise on quality. The vinyl sheet flooring products available from Empire are covered by robust warranties against fading, staining, wearing, and more. So, if you choose to have vinyl sheet floors installed in your home, you can rest assured that you'll be getting a fairly-priced product that you will be able to enjoy for years to come.
Sheet Vinyl Flooring features
While sheet vinyl flooring is known for being a budget-friendly floor material, it's still packed with beneficial features.
Available in styles that replicate a wide range of stone, tile, or wood plank looks.
Minimal seams between vinyl sheets improve aesthetics, durability, and water resistance.
It's incredibly versatile: sheet vinyl flooring can be installed directly onto concrete or over a variety of subfloor types.
Shop All SHEET VINYL