Commercial Carpet and Carpet Tile
Built to endure the high levels of foot traffic common in busy commercial environments
Shop All
What is Commercial Carpet and Carpet Tile?
Simply put, commercial carpet refers to an extremely durable type of carpeting that has been crafted with a primary emphasis on withstanding high levels of foot traffic—while still adding a little style to the space. Commercial carpeting is low profile and features dense, tightly-looped fibers. It's ideal for offices, retail environments, schools, churches, and any other location that regularly sees lots of visitors.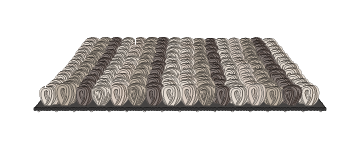 Available in wall-to-wall (broadloom) or carpet tile (modular or carpet squares) formats
Traditional, modern, and neutral patterns provide a wide variety of different looks
Popular darker colors and patterns are more forgiving than solid colors
Shop Commercial Carpet and Carpet Tile by Style or Color
While durability may be the main attraction, it's still important to have your office carpet be complementary to the overall design scheme. From a light tan carpet that can help brighten up a small waiting room, to dark carpet tiles that can help hide stains in a busy lobby, Empire's selection of commercial carpet spans a wide range of colors.
Why Should You Choose Commercial Carpet and Carpet Tile?
While commercial spaces often favor hard-surface floorings like vinyl tile or luxury vinyl plank, there are many reasons to choose a commercial carpet instead. Foremost is its durable construction. Commercial carpeting is specifically designed for areas that will regularly experience high levels of foot traffic, day in and day out. It favors colors and styles that are better at disguising stains and wear, and often features special stain-resistant treatments.
Another major benefit is the comfort it adds. Whether it's a church, library, or convention center, your patrons will be doing a fair amount of walking and standing. While commercial carpet and carpet tiles are low-pile and not as cushy as a residential plush carpet, they still offer a significant comfort upgrade over a hard floor. And employees will appreciate the relief of having lobby or office carpet as well. Covering large sections of flooring with a soft surface also brings the beneficial side effect of helping reduce ambient noise. A carpeted lobby or open-concept office will be noticeably quieter than one with hard floors.
And, of course, commercial carpeting is an easy way to give your commercial space a visual refresh. With a wide range of designs that includes solid colors, multicolor speckled carpets, herringbone patterns, and even more, there's a commercial carpet that can match most types of décor. And by varying patterns with different commercial carpet squares, the design possibilities are nearly limitless.
Commercial Carpet and Carpet Tile features
Having commercial carpet or carpet tile brings a host of benefits to your place of business, making a quieter, more comfortable space
Wide variety of styles to fit the atmosphere of a range of commercial spaces, from casual to upscale
Carpet tiles further increase style options by offering the ability to combine looks in the same space
Covered by robust warranties against stain and wear
Shop All COMMERCIAL CARPET AND CARPET TILE