Luxury Vinyl Tile Flooring
Comfortable, affordable floors with the look of fine tile or stone
Shop All
What is Luxury Vinyl Tile Flooring?
Commonly known as LVT flooring, vinyl tile flooring is a synthetic floor material crafted to mimic the look and texture of a traditional tile or stone floor. Vinyl floor tiles provide the high-end look of tile floors at a wallet-friendly price point. Plus they offer a more comfortable surface underfoot than tile, and require minimal maintenance.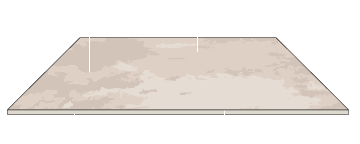 Mimics the look of ceramic tile or stone materials like marble and travertine
With a dense vinyl core and special wear layer, LVT floors are highly resistant to wear
Vinyl tile floors are water resistant or even fully waterproof
Shop Luxury Vinyl Tile Flooring by Style or Color
As a man-made material, LVT flooring can be crafted to match the appearance of just about any tile or stone product imaginable—with various colors, stone patterns, and even tile sizes available. This diversity of style can help you achieve aesthetics that would have been impractical with genuine tile or stone. Love the appearance of marble tile, but want it in a room where kids play? A vinyl tile floor will give you that look, without the maintenance needs of natural stone or the uncomfortable surface it can create.
Why Should You Choose Luxury Vinyl Tile Flooring?
As with other vinyl floor products, the most common reason to choose LVT flooring is to get the look of a higher-end material while sticking to a budget. Ceramic tile and fine stone floors may look amazing, but that high-end aesthetic usually has a price to match. Plus, their complicated installation process means you'll pay much more in labor costs. Luxury vinyl tile from Empire can give your home that same swanky style for significantly less. And although LVT is considered an alternative to a high-end product, that doesn't mean that it skimps out on quality. In addition to offering the look and feel of tile or stone, LVT flooring can be grouted just like the real thing. Guests will never guess they're walking on vinyl floors. And the luxury vinyl tile available from Empire is covered by some of the industry's best warranties against wear, fading, and staining.
Luxury Vinyl Tile Flooring features
Luxury vinyl tile is a "best of both worlds" flooring material, giving homeowners the aesthetics of fine tile or stone floors, in a surface that's easier to maintain and more suited to the average household.
Stone-look vinyl floor offers elegant style in a surface appropriate for casual living
Waterproof construction makes for worry-free maintenance and easy cleanup
Vinyl tiles can be grouted for a truly authentic tile look
Shop All LUXURY VINYL TILE