Porcelain & Ceramic Tile Flooring
Old-world elegance meets modern design and convenience
Shop All
What is Porcelain & Ceramic Tile Flooring?
Porcelain and ceramic tile have long been sought-after flooring materials, thanks to their combination of durability and elegant style. But although it has a storied past, tile flooring is not a relic of yesteryear. Today's porcelain and ceramic floor tiles feature modern looks, are durable enough to withstand life in a busy household, and can be installed in any part of the home.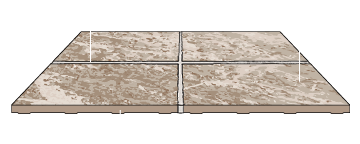 Naturally resistant to moisture and easy to clean
Available with a variety of surface designs, including those that mimic the look of tiles or wood planks
Does not hold or produce allergens, making it great for homes where air quality is of the utmost importance
Shop Porcelain & Ceramic Tile Flooring by Style or Color
One of the great benefits of tile flooring is the wealth of style options it affords. From the basic white subway tiles to ornate designs inspired by traditional artwork, there's little limit to what's possible when crafting ceramic or porcelain tiles. Some of the most popular models are tiles that look like wood or real stone. All of these design options give you nearly endless possibilities when revamping a room.
Why Should You Choose Porcelain & Ceramic Tile Flooring?
The myriad flooring choices on the market today can make it extremely difficult to confidently choose the best product for your needs. So why should you choose tile? The main reason that many customers opt for ceramic or porcelain tile is that these products carry a certain intangible quality that usually isn't found in a composite material. From the elegant, old-world designs to the solid, natural feel underfoot, natural tile floors bring a certain gravity to any household. A tile floor makes any room feel more polished and upscale.
But there are plenty of practical considerations. The hard surface of a tile floor is relatively easy to maintain and keep clean. If you've ever visited a tropical locale, you may have noticed that porcelain and ceramic tile are the most popular flooring choices. The reason for this is usually twofold: first, tile floors tend to help a home feel cooler. Taking barefoot steps on a cool tile floor can be quite refreshing when it's hot and humid outside. Secondly, tile floors are water-resistant and not adversely affected by high moisture. This comes in handy when you might have people stepping right from the pool or beach into your home, or when it is extremely humid for extended periods of time. Plus, tile floors will not absorb or produce any types of allergens, making them a great choice for those who value having the best indoor air quality.
Porcelain & Ceramic Tile Flooring features
Beautiful, durable, and practical—tile flooring's impressive features mean you don't have to make compromises with your kitchen or bathroom floors.
Natural water resistance makes porcelain or ceramic tiles perfect for rooms that regularly deal with moisture or condensation
Many neutral styles make tile a floor you can constantly redesign your home around
Tough surface glazing helps resist against scratches and scuffs
Shop All PORCELAIN CERAMIC TILE