Empire Today® Makes Shopping for Floors Easy
With our signature shop-at-home service, you get new floors without the hassle of shopping in stores. We'll help you find out what you need, what you don't, and how to get the most value for your budget.
MAKE AN APPOINTMENT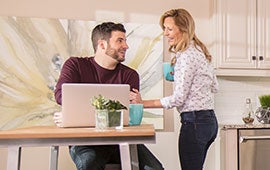 PERSONALIZED

Consultation

We're here to help you pick the right floor for your needs and budget, and that starts by listening to your needs and answering your questions.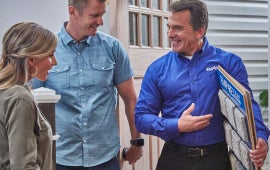 WIDE SELECTION

of Quality, Name-Brand Styles

Shop from brands you trust, with the quality you'd expect. A flooring professional will bring hundreds of samples to your home.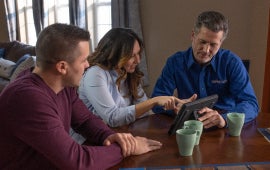 A flooring professional will measure your rooms and provide an easy-to-understand All-Inclusive Price Estimate – with no hidden fees.
PERSONALIZED, IN-HOME CONSULTATION
Buying new floors is not something you do every day, so it might be hard to know where to start. That's why Empire® is here to help. An experienced flooring professional will take the time to listen, learn, understand what you're looking for, and recommend the right floors for your needs.
WATCH THE VIDEO (1:33)
ROOM MEASUREMENTS,

Getting it Just Right

A flooring professional will take accurate room measurements, for free, during your in-home appointment so you don't have to schedule follow-up visits like retail stores may require.
Why Is It Important
Unlike simple cost-per-square-foot estimates you might find online or in home improvement stores, Empire considers your project's specific details when we provide your All-Inclusive Price Estimate:
How much product you'll need, with the least amount of waste.
Correct pattern matching to keep the pattern running in the same direction between rooms.
The best seam positioning for carpet.
Special needs of closets, stairs, hallways, alcoves, angled walls, and unique spaces.
Materials such as padding, thresholds, transitions, underlayment, and base moldings.
CHOOSE YOUR FLOOR

Where You Use Your Floor
How not to regret the color of your new floors
The type of light bulbs in your home and how sunlight fills your rooms throughout the day have a huge effect on the actual color of your floors. That's why Empire brings hundreds of quality samples to your home and saves you the hassle of guessing if a color will look right in your home when you view it under harsh florescent store lighting.
Discover

How Empire Works
See how we make getting new floors easy