Plush Carpet
A classic carpet that offers timeless style and supreme comfort
Shop All
What is Plush Carpet?
It goes by many names, including velvet, Saxony, or texture carpet, but it's a carpet we're all familiar with. Plush carpet is what most people will visualize when hearing the word "carpet." A traditional cut-pile carpet, it features a uniform surface with unparalleled softness, making it a favorite choice for bedrooms and family rooms.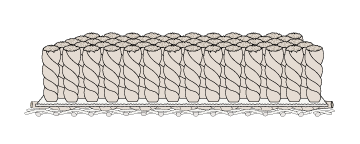 The straight, even length of its fibers gives plush carpet a clean, classic appearance
Cut-pile construction and densely-packed fibers make it one of the most comfortable carpets to walk on
Tightly-twisted fibers help make plush carpeting easier to clean
Shop Plush Carpet by Style or Color
As such a popular flooring material, the style options for plush carpet are vast. Shop a full spectrum of carpet colors, with something that can complement any design scheme. Brighten up a formal living room with a white or cream-colored carpet or give your family room floors some help hiding the occasional stain with a deep chocolate shade.
Why Should You Choose Plush Carpet?
Deciding to have carpet installed in your home is just the first step in the journey to new floors. You may find yourself more confused by which type of carpet is best for your needs. So, why should you choose plush carpet over other types?
Plush carpet is an ideal option for anyone who places equal value on aesthetics, comfort, and durability. Some carpet types may have a more formal appearance, but at the cost of comfort. Others can be easier to maintain, but may look too casual for some home styles. But plush carpet lands right in the goldilocks zone making it a great choice for any room in the home.
Its clean, uniform look can easily dress up an elegant living room, but it doesn't feel too fancy for a children's bedroom. Its dense fibers help resist the intrusion of dirt, but they're not so tough as to sacrifice comfort. Plus, the staggering amount of colors available means there's a plush carpet that will mesh with just about any interior design scheme.
Plush Carpet features
The name says it all—almost. Because plush carpet gives you more than just a soft surface for your family's favorite rooms.
The uniform surface length is a timeless style that can harmonize with nearly any interior style
Covered by some of the best warranties in the industry, with many plush products offering limited lifetime warranties against staining
One of the most comfortable surfaces to walk, sit, or play on
Shop All PLUSH CARPET