Why Vinyl Flooring Might Be Your Best Option for a Modern Look
Choosing contemporary new flooring for your home can be a hassle. Although hard surfaces are the common choices to stay on trend, porcelain tile and hardwoods aren't the most affordable options. Luckily, vinyl can give you the stylish look you want for less. But what exactly is vinyl flooring, and what makes it such a popular alternative to the real deals? Keep reading to find out.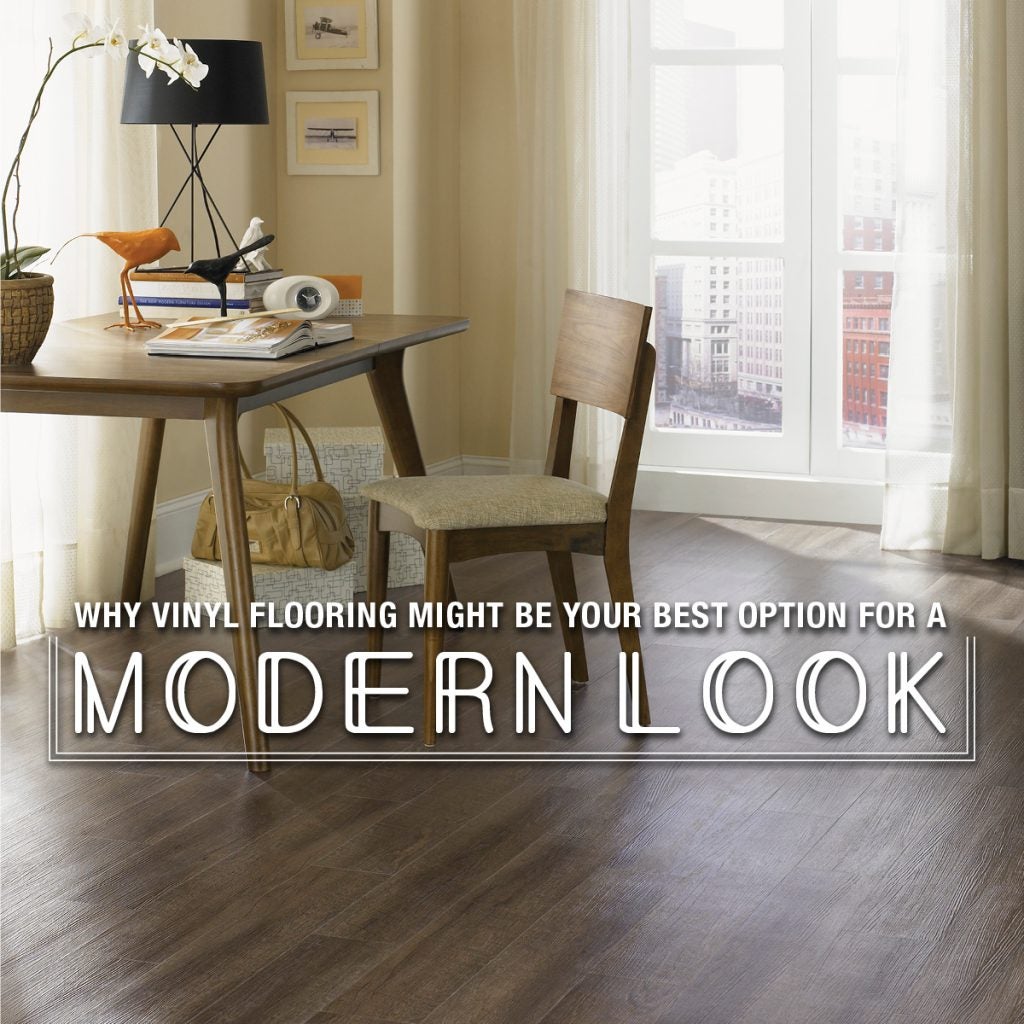 Vinyl Flooring Types: Know the Difference
Vinyl floors are categorized into three different options. Each type has its own benefits and should be considered based on your personal style and practical needs.
Sheet Vinyl
The most affordable of the three, sheet vinyl comes in large, flexible sheets. Not only can it mimic a wood look, it can also mimic tile and natural stone. Although it's evolved to have sophisticated styles, sheet vinyl isn't customizable due to it being a sheet instead of individual pieces. However, the sheets have less seams, helping your floors look less busy.
Luxury Vinyl Tile (LVT)
Vinyl tile is a luxury option that has the most realistic look and feel of ceramic tiles, with some of them even having grout. Unlike sheet vinyl, it comes in individual pieces and can be customizable.
Luxury Vinyl Plank (LVP)
The most popular alternative to hardwood, luxury vinyl plank can vary in texture, with them all having a realistic look and feel. Like LVT, it comes in individual planks, making the style customizable.
How Durable is Vinyl Flooring?
While the luxury options are typically more durable than sheet vinyl, vinyl is a durable option overall. Sheet vinyl is rip, tear, and gouge resistant while vinyl tile and plank both resist scratches, scuffs, and stains. All three options have waterproof attributes, however LVP can be 100% waterproof. Unlike hardwood, this flooring can give you a wood look in moisture-prone rooms.
Keep in mind, however, replacing sheet vinyl can be tricky. You cannot replace individual pieces that are damaged. Instead, you will have to replace an entire sheet or the patch that's damaged. Not only can this break the floor's continuous style pattern, it can create seams that allow moisture to penetrate the surface.
Where Vinyl Flooring can Fit In Your Home
Because it comes in many styles and textures, vinyl floors can be placed in basically any room of your home—even the basement. Sheet vinyl's and LVT's stone or tile looks will go perfectly in the kitchen and bathroom. LVP's realistic wood look would look amazing in the living room or even your bedroom. Also keep in mind each vinyl type's strengths and weaknesses. The more waterproof the better it will be in rooms that tend to attract a lot of water and moisture.
Which Vinyl Flooring is Right for Your Home
To know which type is right for your home, you need to think of where the flooring will be, the size of your family, and your family's lifestyle.
LVP and LVT will work better with pets than sheet vinyl. Their scratch and scuff resistance will help prevent damage from your furry friend's claws. They will also be a better fit for areas with heavy traffic, such as the family room.
Sheet vinyl is still a great option! Not only is it more budget-friendly than the other two options, but it is easier to install.
No matter which type you choose, vinyl flooring has proven to be a durable and stylish flooring choice. It's evolution over the years makes it capable to get realistic tile, stone, and hardwood looks in your home for less. If you want to see how modern vinyl flooring styles can upgrade your home, Schedule a FREE In-Home Estimate today.