Vinyl Plank Flooring
The look of hardwood without the cost or maintenance
Shop All
What is Vinyl Plank Flooring?
Often referred to as luxury vinyl plank or LVP flooring, vinyl plank flooring is a composite floor material designed to give the look and feel of hardwood floors while being more affordable and easier to maintain. As the name implies, it is crafted in individual vinyl planks that get installed in a manner similar to how a real wood floor is installed.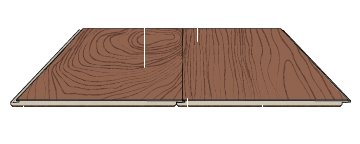 Mimics the look of real hardwood floors
Fully waterproof flooring, making it suitable for use in bathrooms and kitchens 
Integrated backing helps reduce noise and makes floors feel warmer
Shop Vinyl Plank Flooring by Style or Color
Vinyl plank flooring is prized for its ability to accurately recreate the aesthetics of any popular wood flooring products. The LVP products carried by Empire are available in a wide range of styles, colors, and sizes. So whether you need a classic, warm-toned floor for a cozy cottage kitchen, or you have modern design goals that require stark, light-colored floors, there is a luxury vinyl plank flooring product at Empire that can meet your requirements.
Why Should You Choose Vinyl Plank Flooring?
As with other types of vinyl flooring, luxury vinyl plank is sought after for its combination of style, versatility, durability, and affordability. It's most common with homeowners who love the look of hardwood but have budgetary or practical reasons for not using wood in their project. Maybe you're remodeling a basement that occasionally takes on water, which would not be a suitable setting for real wood. If your home includes active kids or pets, you'll love the durability and easy maintenance of LVP flooring. Or maybe you're just watching your budget, and you want to save some money while still getting a floor that will look great for years to come. These are all excellent reasons to have Empire install vinyl plank flooring during your next project.
Fully Waterproof Vinyl Plank Floors with Aqua Defense Technology
Empire Today® Exclusive
Learn More
Totally Waterproof
LVP floors with Aqua Defense protection are built to stand up to high levels of moisture, including standing water.
Easy to Keep Clean
Go ahead and soak that mop—vinyl plank floors' waterproof construction takes the worry out of cleaning, making them extremely easy to maintain.
Wood Look Floors, Anywhere
Vinyl Plank Flooring lets you enjoy the look of genuine wood floors in places the real thing dare not tread, including bathrooms, mudrooms, and even your basement.
Vinyl Plank Flooring features
Vinyl plank flooring is a popular material choice because it combines the best traits of both vinyl and wood floors into one convenient, affordable flooring product.
Looks and feels just like genuine hardwood, with realistic wood tones and grain textures
Available in a variety of plank widths, for increased style options and installation flexibility
Resistant to wear, fully waterproof, and can be installed in any room in the home—and even on stairs
Shop All VINYL PLANK