WhisperHOME®
The Quietest and Warmest* Wood Flooring
SEE ALL WHISPERHOME® FLOORING
DEERFIELD CENTRAL

WhisperHOME® - exclusive to Empire Today® - is the quietest wood flooring in the world with the highest wear resistance of any flooring product available. This floor also uses a revolutionary installation method allowing air to flow under the floor making it feel warmer underfoot.
ABOUT WHISPERHOME® HARDWOOD
Helps keep your home quieter than ordinary wood when you walk on it
Best topcoat in the flooring industry. Scuff, stain, wear, and more water resistant
Feels warmer underfoot because of improved airflow under the wood planks
Made from high-quality hardwood grown in colder northern US climates creating tight grains and slow growth patterns for higher-quality floors
Contains no VOCs (Volatile Organic Compounds)
FSC certification ensures that products come from responsibly managed forests
DEERFIELD CENTRAL
The Future of Wood Floors
Many homeowners want wood flooring, but think it is too noisy when walked on, it will feel cold, and will get scuffed and scratched. WhisperHOME® is the only wood floor in the world with an innovative installation technology that is designed to muffle the sound of footsteps and helps provide added warmth to the room due to improved airflow. Top that (literally), with the highest grade of flooring finish, ever - that meets even the extreme demands of the NASA space program, and you get the smartest wood flooring in the world – quiet, warm, and durable.
Why Choose

WhisperHOME® Hardwood?
As Quiet As Carpet
Because of its one-of-a-kind installation technology, this floor is the quietest installed floor available
Best Top Coat
Contains ceramic compounds and has the highest wear and stain resistant of any wood flooring in the industry
Warmer Underfoot
Allows air to flow between the wood plank and floor making it feel warmer underfoot
NEXT GENERATION

Scratch & Stain Resistance

WhisperHOME® hardwood is made to last a lifetime. It's more water-resistant than other floor finishes, it is easy to clean (even nail polish and permanent marker is no match for this floor), and it resists scuffs and abrasions so your floor can look newer, longer.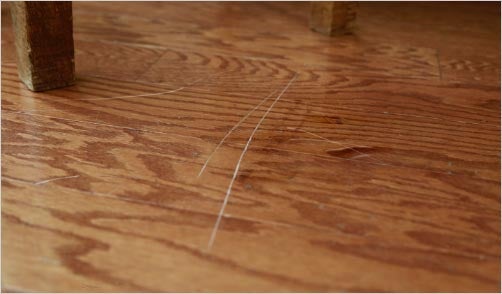 NORMAL Floor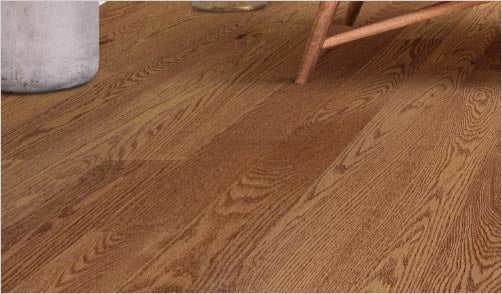 WHISPERHOME® Floor
VIRTUALLY NO NOISE,

No Kidding

Say goodbye to the click clack sound of footsteps on your wood floor. WhisperHOME® has a state-of-the art installation method using industrial strength pre-applied adhesive – with no VOCs. This installation method provides acoustic dampening and helps keep your home quieter.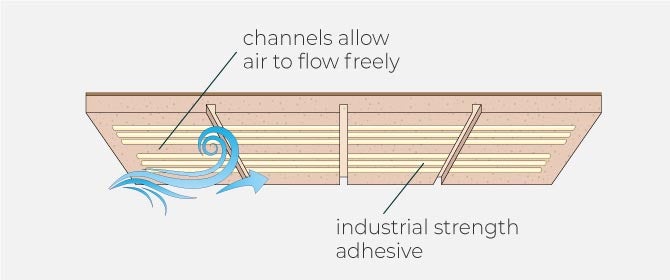 One of the Warmest Wood Floors


You'll Ever Step Foot On

Revolutionary construction with integrated, advanced adhesive applied to the bottom of every plank provides better airflow under the floor, allowing air to circulate. So, the floor maintains a room temperature feeling instead of feeling cold.
Smart for the Environment. Smart for Your Home.
Preserving our natural resources and environment are important. The raw materials used for this floor are sourced only from managed forests in the northern United States. The lumber is purchased from suppliers within a 500-mile radius of the factory that have active reforestation programs and FSC certifications. Only a portion of mature trees are cut, leaving other trees for seeding. Plus, it contains no VOCs, has a formaldehyde free adhesive, and is 100% CARB compliance.
WHISPERHOME® STYLES to Match Any Decor
New Carpet & Flooring

Made Easy

Everything Empire Today does is based on one simple idea — getting new floors should be easy.

WATCH THE VIDEO (2:02)
Shop-At-Home Experience
See hundreds of samples in your home Empire brings the store to you.
Quality Products
Top-quality, name-brand carpet and flooring options in the latest styles and colors that are durable and long lasting.
Know what your project will cost, upfront with no hidden fees.
Professional Installation, even Next Day
Don't wait weeks for new floors. You can get custom installation as soon as tomorrow.
Explore Our Wide Selection

of Carpet & Flooring Options
EMPIRE TODAY EXCLUSIVE - WhisperHOME® | Discover the Advantage
What is WhisperHOME® Hardwood?
WhisperHOME® is the best hardwood for anyone looking to get real hardwood, but is concerned about noise, floor temperature, or scuffs. It is quite possibly the quietest wood flooring in the world and has acoustic dampening ratings near that of carpet. WhisperHOME® is warm underfoot due to its innovative construction with built-in adhesive that allows for increased overall airflow under the floor planks. This wonderfully durable hardwood is made with the highest-grade of aluminum oxide protection – even vinyl floors can't compare to how resistant this floor is to scuffs and abrasions.
Professional Installation for High-Quality Flooring
For over 60 years, Empire has sold quality carpet and flooring in homes just like yours. It's what we do every day – and we make it easy. WhisperHOME® is no different. With its one-of-a-kind installation method, you can trust your floors are in good hands. We will take the diligence to cater to every detail and need for your home and provide you with the best tips to ensure your floors will look good and last long.
*When compared to wood flooring without state-of-the art pre-applied adhesive installation method.