Engineered Hardwood Flooring
The timeless look and feel of classic wood - at a more affordable price.
Shop All
What is Engineered Hardwood Flooring?
Combining the desirable traits of solid hardwood with the benefits of laminate floors, engineered hardwood offers a "best of both worlds" approach to wood flooring without making any compromises to style or performance. A real wood surface is bonded to a highly-stable laminate core, creating a durable product that looks and feels like real wood, but which costs less and offers more installation flexibility.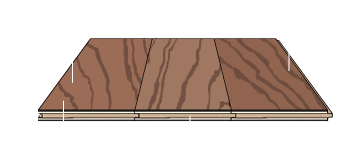 The timeless look of real wood flooring at a more budget-friendly price
Highly durable, thanks to the engineered core and factory-applied topcoat that resists scratches, scuffs, and overall wear
Easy to clean and maintain: engineered wood floors can stay beautiful with regular sweeping and light mopping
Shop Engineered Hardwood Flooring by Style or Color
Like any real wood product, engineered hardwood planks from Empire® are available in a wide range of colors and grain patterns. Warm wood is a time-honored choice for the floor of a sophisticated study, while a modern office might call for a gray engineered hardwood product. Shop a full spectrum of engineered wood floor colors, species, and plank widths at Empire.
Why Should You Choose Engineered Hardwood Flooring?
Engineered hardwood is one of the most popular flooring products on the market today because it offers the opportunity to get the look and feel of real wood floors but at a more affordable price point. While vinyl and laminate floors do a top-notch job of mimicking real wood floors, close inspection will reveal that they're both synthetic materials. But the top layer of engineered wood flooring is a slice of real hardwood, ensuring that every plank is unique and feels just like real wood. This top layer is available in a variety of wood species, and can even be produced with optional hand-scraped, wire-brushed, or distressed finishes.
Installing engineered wood floors also brings practical benefits to your home. Unlike real wood, engineered hardwood can be installed over concrete slab subfloors, and even used below grade. Because its durable core is made from a composite material, engineered wood floors are less affected by fluctuations in temperature or moisture, making them a safer choice for those who live in humid environments. And engineered hardwood flooring is often quieter than real wood, which can be a welcome benefit in busy homes.
WhisperHOME® quiet wood flooring
Empire Today® Exclusive
Learn More
Extremely Quiet
Walking on WhisperHOME® wood flooring has been measured to be nearly as quiet as a carpeted floor.
Warmer Underfoot
The same innovative construction that makes WhisperHOME® so quiet also increases airflow underneath the planks, helping insulate them and making your floors feel warmer* beneath your feet.
Installation Versatility
Because it's an engineered hardwood, WhisperHOME® flooring can be used in situations where solid hardwood can't.
Engineered Hardwood Flooring features
In love with the idea of hardwood floors but not the price tag? Engineered hardwood flooring might be the answer to your dreams.
The same look and feel of real wood floors, at a more affordable price point
Offers some advantages over solid wood, like better resistance to moisture
Can be installed in places real wood cannot, like in basements and over some radiant heating systems
Shop All ENGINEERED HARDWOOD