5 Things to Consider to Make Floor Remodeling Easier
Getting beautiful new floors is a great way to update your home with a new look. However, a lot of thought goes into getting the perfect end result. Here are a few key things you should consider to make your floor remodeling process go as smooth as possible.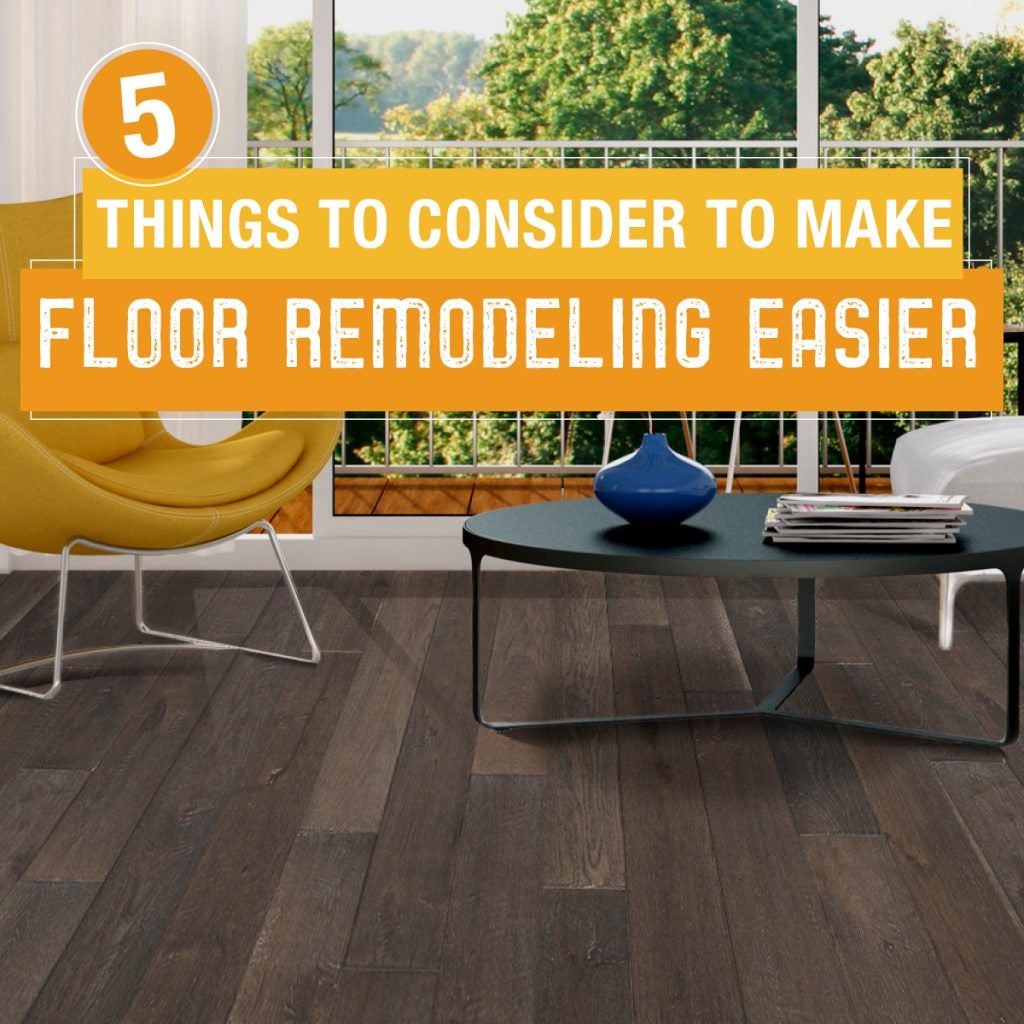 1. Climate at Home
Climate can have a dramatic effect on your flooring and home. Floors such as hardwood and laminate can buckle and warp when faced with high humidity. Consider a porcelain tile wood look or vinyl plank, if you live in an especially humid climate.
Because tile naturally has a cold touch, it may not be a great option if your home is in an area with cold temperature. Consider carpet to add a warm touch to your home.
2. What Rooms Need Remodeling?
Whether it's the living room, bedroom, or even your kitchen, each room in your home has a unique function. Bathrooms and kitchens are high-moisture spaces and you will need flooring that won't buckle or warp when faced with water. Your bedroom is a place to relax, you might want soft carpet for comfort.
In addition to knowing your room's personality and needs, think about what function your room will serve. A family room with high foot traffic calls for something more durable.
3. What's Your Lifestyle?
Your lifestyle is another important factor before you begin floor remodeling. Kids and pets make a difference in the type of flooring you choose. Consider your hobbies and daily activities as well. Do you host parties? Cycle? Run? It will be easy for your floors to get dirty from guests or mud you've tracked in your home. Having stain- and scratch-resistant flooring will make your life much easier.
4. Different Types of Floor Remodeling
After considering climate, rooms, and your general lifestyle, you need to figure out which floor is right for your home. While this can be a fun and exciting step, make sure you weigh your options with the long-term benefits in mind. Hardwood may have a timeless look, but it can still be damaged if it is exposed to moisture. You may want to opt for waterproof flooring like vinyl plank or laminate to achieve a realistic wood look.
If you were thinking of carpet but are hesitant because you may have pets or allergies, don't cross it off your list just yet. Instead aim for carpet that is specially made for your lifestyle, like the hypoallergenic and odor-reducing HOME Fresh carpet available at Empire.
5.  Floor Remodeling with Existing Décor
Flooring plays an important part in your home décor. The best flooring choice blends into your existing décor, creating a continuous look. If you have modern furniture, you may want to opt for a modern trend, such as wide planks. If you have a more traditional décor, traditional floors tend to be a better match.
You also want to consider neutral colors. A nice grey or greige floor can blend in easily with your décor's color scheme.
In the end, floor remodeling should be easy. The climate, room, lifestyle, floor type, and even existing décor all play important roles in making the right floor choice for your home. For even more insight into choosing the right floors, Schedule a FREE In-Home Estimate to speak with one of our knowledgeable flooring professionals.