Kitchen Décor 101: 4 Tips to Coordinate Kitchen Flooring, Cabinets, and Countertops
Your kitchen flooring, cabinets, and countertops all play an important role in creating your desired look. However, it can be a hassle to achieve a new kitchen design that's cohesive. Avoid the headache and use these tips to easily coordinate your kitchen décor.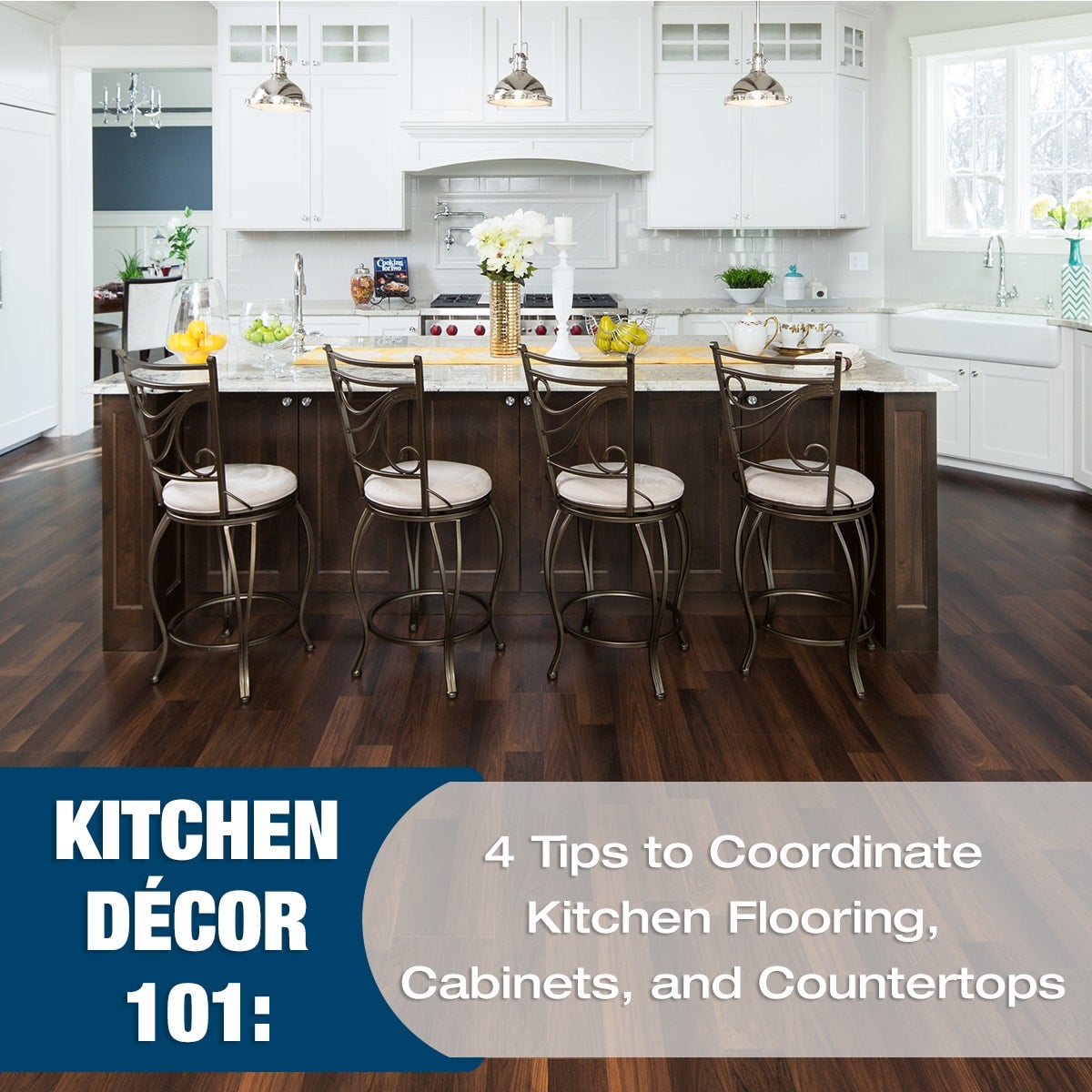 1.) Make Things Easier with a Dream Theme
Before you start choosing your colors and styles, know what theme you want for your kitchen. Your kitchen flooring, countertops, and cabinets are important factors in setting the tone for your design. For instance, if you want modern, go for cool dark or light tones. If you want a rustic kitchen, go for warm colors with a distressed look. After deciding what look you're aiming for, you can begin exploring the various options within that theme.
2.) Designing Should Start from the Top… Countertop that is
From granite to wood, kitchen countertops can vary in pattern, style, and material. Because they can be so complex, it's best to start your kitchen design with choosing them first. Depending on the style, it will be easier to match flooring and cabinets with countertops, than to match countertops with existing décor. Keep in mind, countertops are also important if you intend to have backsplash. Starting with this central part of your kitchen can make designing your kitchen a smoother process.
3.) Color Coordination is Key
The key to color coordination is choosing two dominant colors and one accent color. The dominant colors should be simple while complementing each other. The third color is used to tie them in to create a cohesive design while adding character to the kitchen. Which kitchen essential should be the accent color? It's up to you! However, make sure your countertop is one of the dominant colors. Vibrant cabinets with neutral countertops and kitchen flooring? Dark countertops and flooring with light cabinets? They can all make a beautiful kitchen design!
4.) The Small Things Can Make a Big Difference
An easier way to make your kitchen pop is through accessories and appliances. Instead of getting blue or yellow cabinets with white counters, make both white or black and the smaller things colorful. This is an easy option if you can't settle on a color and want to change often. Instead of having to paint, you can just swap out your kitchen accessories with a new color. Your plates, pots and pans, and even towels can give the room a vibrant touch.
These 4 tips can help make designing your kitchen a simple task, and Empire Today can help make getting new floors even easier. Schedule a FREE In-Home Estimate to get kitchen flooring that will match your décor and your family's needs.