Refinishing Hardwood Floors 101: When, Why, and How
Hardwood flooring is timeless, stylish, and can increase the overall value of your home. But heavy traffic and improper care can lead to long-term headaches. Refinishing hardwood floors is a great way to make them look brand new without a complete replacement. Here's what you should know before getting started.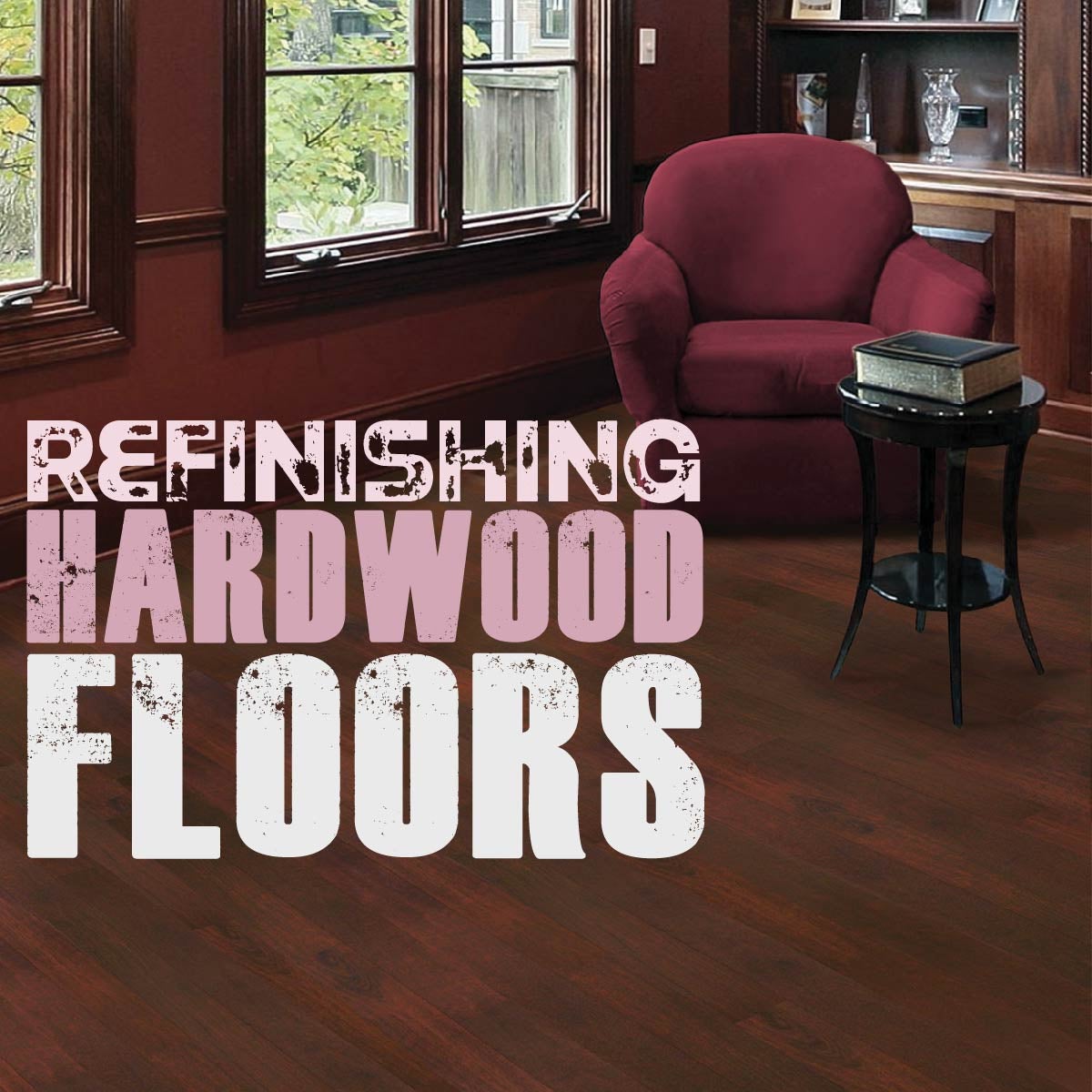 When Should You Refinish Hardwood Floors?
How often you refinish hardwood flooring depends on thickness and age. It's highly recommended you check the manufacturer instructions before making a decision. A solid hardwood plank at least 3/4 inches thick will likely need to be refinished four to six times during its total lifespan. It's commonly accepted that you refinish every seven to ten years.
Important note: some hardwood is only 1/4 inches thick. In this case, a refinish could strip away all traces of the floor.
Unsure about how thick your hardwood is? Consider measuring board thickness by removing an air vent in the floor to expose a "side view" of the board. Another option with a little more effort would be to remove the base trim, shoe trim, or quarter round. Usually, you can gauge flooring thickness that way without tearing up the room too much.
Every hardwood species is a little different. Since solid hardwood is one piece of uniform wood, it can be refinished more often. Refinishing engineered hardwood should happen less frequently due to its layered construction.
If hardwood floors have scratches, fading, and/or discoloration, that's another indicator that they require a refinish. The longer you have hardwood in your home, the more important it is to conduct preventative hardwood maintenance. While minor imperfections could be hidden with furniture or rugs, severe damage is going to require much more effort.
Problem #1: Excessive Dents and Scratches
Dents and scratches on hardwood happen (especially if you have kids or pets). And they can only be ignored for so long before you run into real problems. Refinishing hardwood floors can be a great way to remove surface scratches that aren't deeply embedded in the wood.
Problem #2: Fading and Discoloration from Sunlight Exposure
Direct sunlight can also negatively impact hardwood floors. Too much exposure to UV rays and your floor can eventually fade and/or become discolored. You can try to prevent this from happening with blinds and shades, but if it's already too late, a refinish may help restore your floor's color.
Problem #3: Water Damage on Hardwood
If a protective hardwood finish wears off, your floors can become susceptible to water damage. If water soaks into the wood immediately rather than resting on top, it's likely time for a refinish. Another sign? Water damaged hardwood often turns a shade of gray. The darker the boards become, the more damage is occurring. Once black, your floors probably need to be replaced altogether.
Refinishing Hardwood Floors Isn't Always Enough
Hardwood flooring is a major investment that should last for many years. Discoloration, scratches, and even signs of water damage can be reversed if refinishing hardwood floors properly. However, there are a few signs (some more obvious than others) to look for that indicate a need for a full flooring replacement, such as:
Boards have turned extremely dark or black compared to the original color
Gaps, loose boards, and movement
Deep gouges or scratches that go below the surface layer
Warping boards
Many of the above scenarios can be avoided with preventative hardwood flooring care. Like many home improvement projects, being proactive before real problems occur is the best way to avoid expensive, stressful scenarios.
How to Refinish Hardwood Floors
Refinishing hardwood floors can be time-consuming, costly, and frustrating. Worst of all, you risk damaging your investment and making the condition of the floor worse. We're not here to scare you, but it's important to have realistic expectations before a DIY project. Here's what refinishing hardwood involves:
Moving all furniture, pictures, curtains, and personal items out of the room
Covering all air conditioning units, windows, and doorways with plastic to help contain dust
Cleaning the floor thoroughly to prepare for sanding
Renting a professional sander, and often a handheld detail sander for edges and corners
Completing three separate passes with the sander, starting from light grit, to medium grit, to fine grit
Filling in dents and scratches with a screen
Vacuuming dust and excessive cleanup
And that's 5+ hours of work BEFORE you even get to coating and staining if you're recoloring the wood.
Refinishing Hardwood is Not for Everyone
This is not a project for everyone, and that's okay. You can read articles or watch how-to videos, but nothing can compare to years of knowledge and expertise that a professional, experienced contractor will have.
Remember, if the damage to your hardwood is extensive, unsafe, and impossible to ignore, it may be time to replace your flooring completely. Empire makes the whole process really easy. Schedule a FREE In-Home Estimate to see high-quality hardwood samples in the natural light and context of your home.