What You Need to Save for a Down Payment
Purchasing a house is one of the largest milestones in a lifetime. After years of roommates, landlords, and monthly rent payments, it's an exhilarating feeling to be handed the keys to your very own home. In some of the more expensive housing markets in the U.S., one of the largest hurdles to becoming a homeowner, outside of identifying a home you love enough to buy, is saving for a down payment – especially when the down payment is 20% of the home's cost in today's market.
At Empire Today, we make getting beautiful new floors easy, and buying a new home can be easy with the right plan and approach. To get a better idea of the savings required for down payments in the U.S., we looked at the 2018 median home price in 51 different cities according to data from the National Association of Realtors. From there we calculated the standard down payment amount (20%) required to purchase a home in each city.
It's no surprise that what we found varies widely depending on where you live in the country. For example, median home prices range from $142,700 in Buffalo, NY, to $1,180,000 in San Jose, CA. This means, if you want to buy a house, you'll want to save $28,540 for a down payment in Buffalo and $236,000 for a down payment in San Jose. Taking the 20% down payment in each city, we calculated the amount of monthly savings required to make that down payment, assuming you began saving at different ages. The National Association of Realtors recently found the average age of a first-time home buyer is 32, so we used a target homebuyer age of 30 and visualized the monthly savings required if you start at age 22, 25, 27 and 29 in the graphics below.
Age 22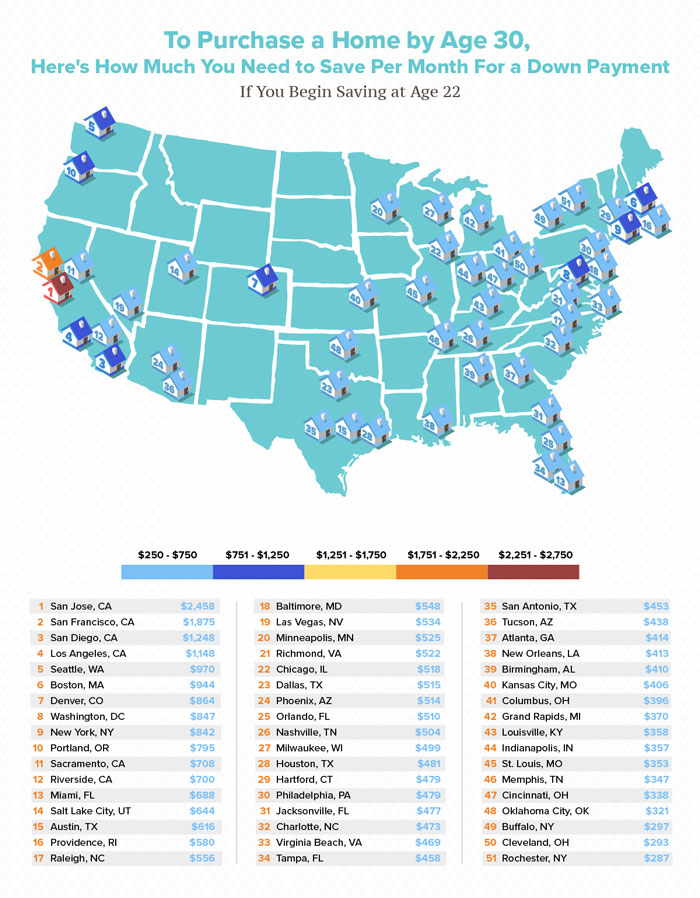 Getting a savings plan in place at an early age clearly pays off. While the monthly savings required in each of these cities is no small amount, especially for the entry-level salary of a 22-year-old, 50% of the cities' monthly savings requirement comes in below $500.
On the higher-end of the savings spectrum, 22-year-olds should save upwards of $2,500 per month, which is, of course, one pretty penny! But, on the lower end of the chart, the down payments seem a bit more achievable with the right budgeting and savings plan, especially in cities like Buffalo, Rochester, and Cleveland that require a savings commitment less than $300.
Age 25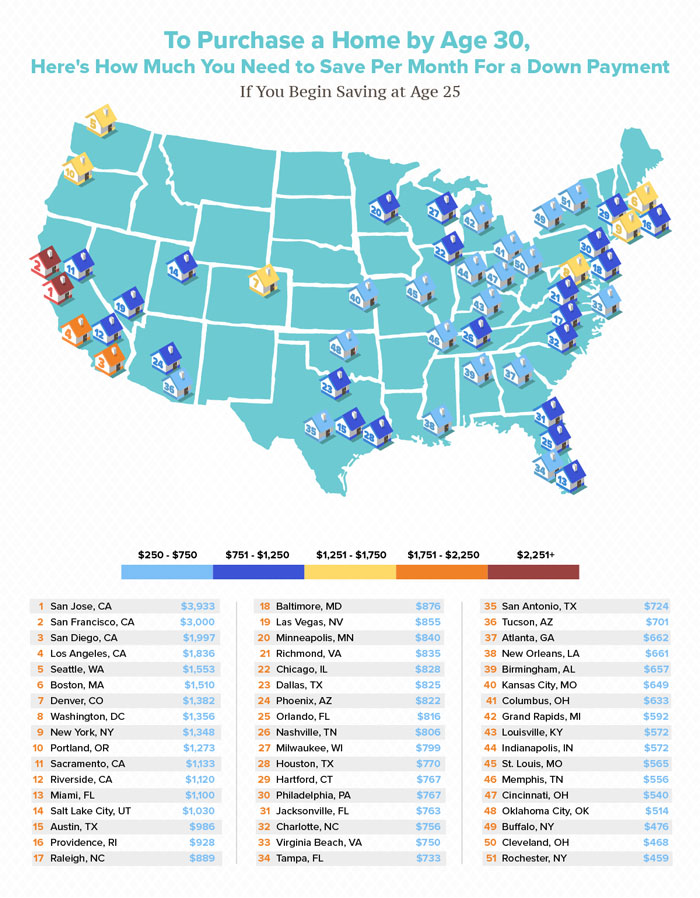 If owning a home by age 30 is a goal of a 25-year-old, they should be prepared to dedicate a reasonable portion of that monthly income to their savings. At this point, only 6% of the cities require a monthly savings of less than $500. 27% of the cities' savings requirements are now greater than $1,000, with San Jose, CA coming out on top with a whopping $3,933 per month!
Age 27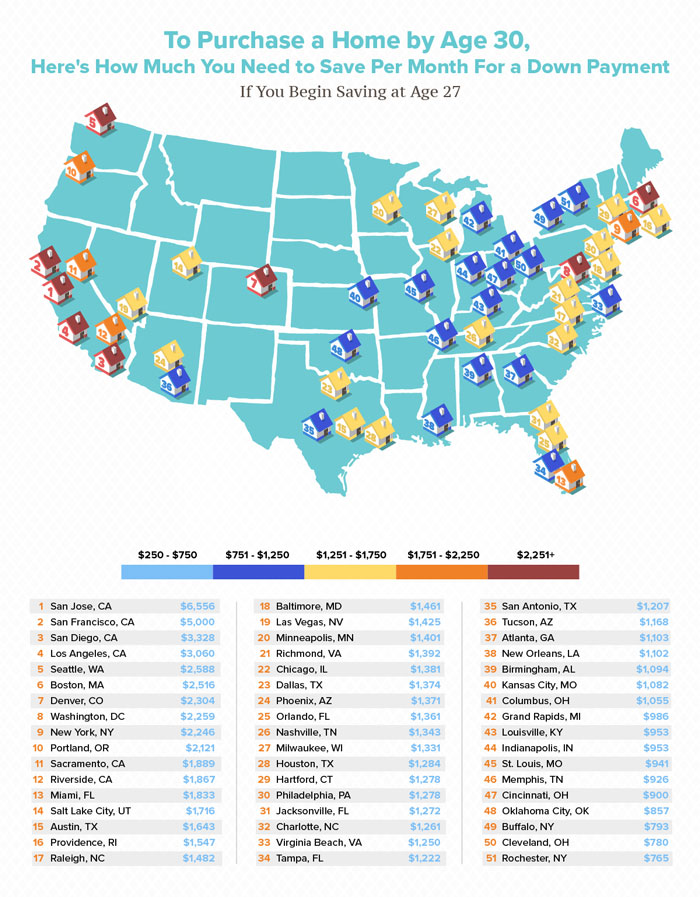 The monthly savings requirements continue to climb if you set out to begin saving at 27 rather than 22 or 25. 80% of the monthly savings requirements now come in above $1,000 and 19% above $2,000. Although it could be tough saving that amount of money each month, it's still possible, depending on your location and occupation.
Age 29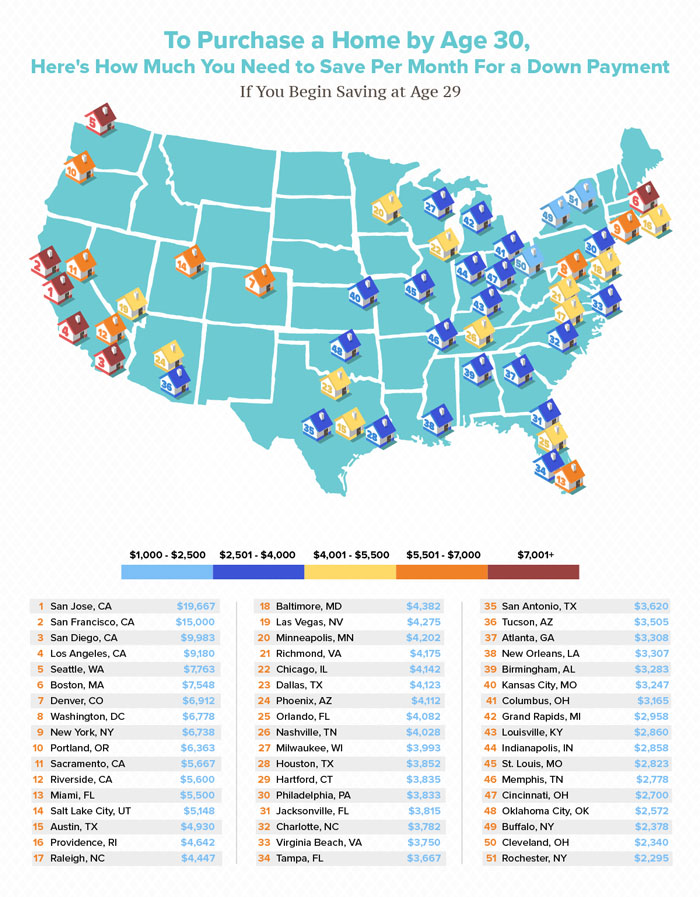 We all know the longer you wait to start saving, the more the monthly commitments will pile up, but it's still surprising to see just how much someone would need to save each month if they wanted to buy a home within a year. The least expensive city, Rochester, NY, comes in at a required savings of $2,295 per month, while the most expensive is just under a staggering $20,000. It's safe to say it would be incredibly challenging to save enough for a down payment in 1 year in the most expensive U.S. housing markets.
You can see the full results of the study with every age from 22 through 29 in the chart below. No matter where you are in your 20s, if you have a goal of becoming a homeowner by age 30, we'd recommend you start saving today so you can buy your dream home!