Most Popular Home Renovations by State
Dreaming of what your home could look like? Turns out, so are loads of other homeowners.
Thanks to the influx of #homegoals from design-inspired shows, the popularity of home renovations has gone up tremendously over the last decade. Add Pinterest into the mix, and you have a near infinite supply of potential projects around the house. But have you ever wondered what the most popular home renovation projects are in each state?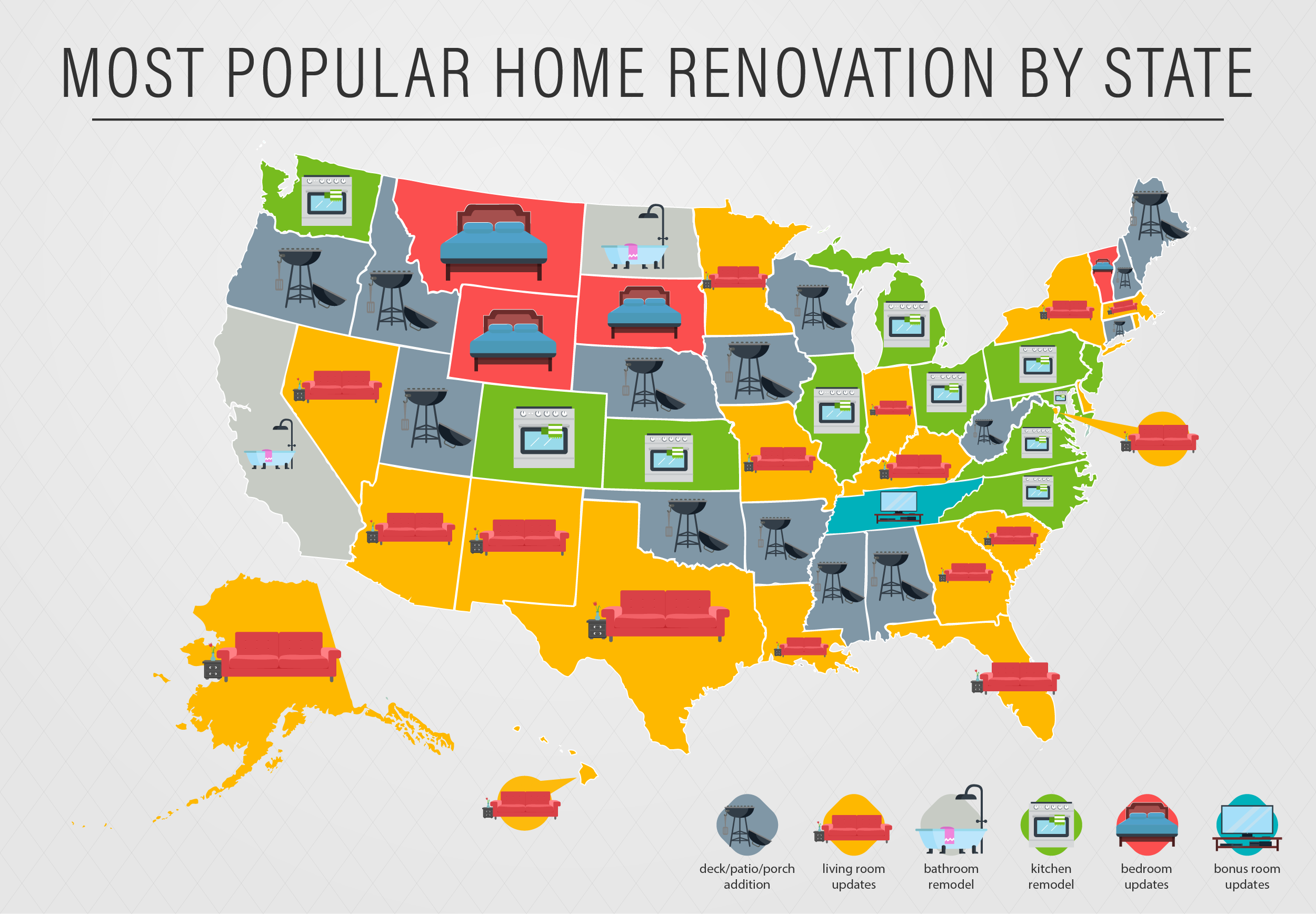 Most Popular Home Renovation Projects by State
According to HGTV, some of the most popular home renovation projects include bonus room updates, bedroom updates, kitchen remodels, bathroom remodels, living room updates, and the addition of a deck, porch, or patio.
Based on the average level of search activity for various renovations in each state, we determined the most popular home renovation for that area.
New Decks and Porches are a High Priority
We're not surprised by the 14 states who searched for deck, porch, or addition renovations – West Virginia, Utah, New Hampshire, Maine, Alabama, Mississippi, and Oregon have stunning views you could soak up from a nice new porch. Wrap-around porches are the perfect addition to homes with beautiful scenery.
Indoor Renovations, Especially in Kitchens, are #1
Outdoor views aren't a primary driver for renovations, though. Nineteen states focused more on living room and décor updates. The leading renovation? 11 of these 19 were most interested in kitchen updates.
Certain States Have Unique Renovation Needs
The remaining 7 states span different categories. California topped the charts for bathroom remodels, while Tennessee led the pack in bonus room renovations. The 5 remaining states? South Dakota, North Dakota, Wyoming, Montana, and Vermont are more likely to want to spruce up their bedrooms.
Turn Your Home Goals into Reality
Renovations can provide a fresh new look as well as increase the overall value of your home. Turn your #homegoals into reality, because finding the perfect project has never been easier.
Getting Beautiful New Floors Has Never Been Easier
Let Empire help you achieve your #homegoals with new Carpet, Hardwood, Laminate, Vinyl, or Tile. We make getting beautiful new floors easy. While home renovations typically require a drastic amount of time and energy, Empire brings hundreds of samples right to your home. Here's how to shop for flooring the easy way.