10 Small Room Decor Ideas You'll Wish You Thought of First
Decorating a small space can be tricky. You may have tons of ideas, but some of them may be too big for the room you have in mind. Don't get discouraged—Empire is here to help you make your home truly inviting – no matter the size. Here are 10 easy and functional small room décor ideas.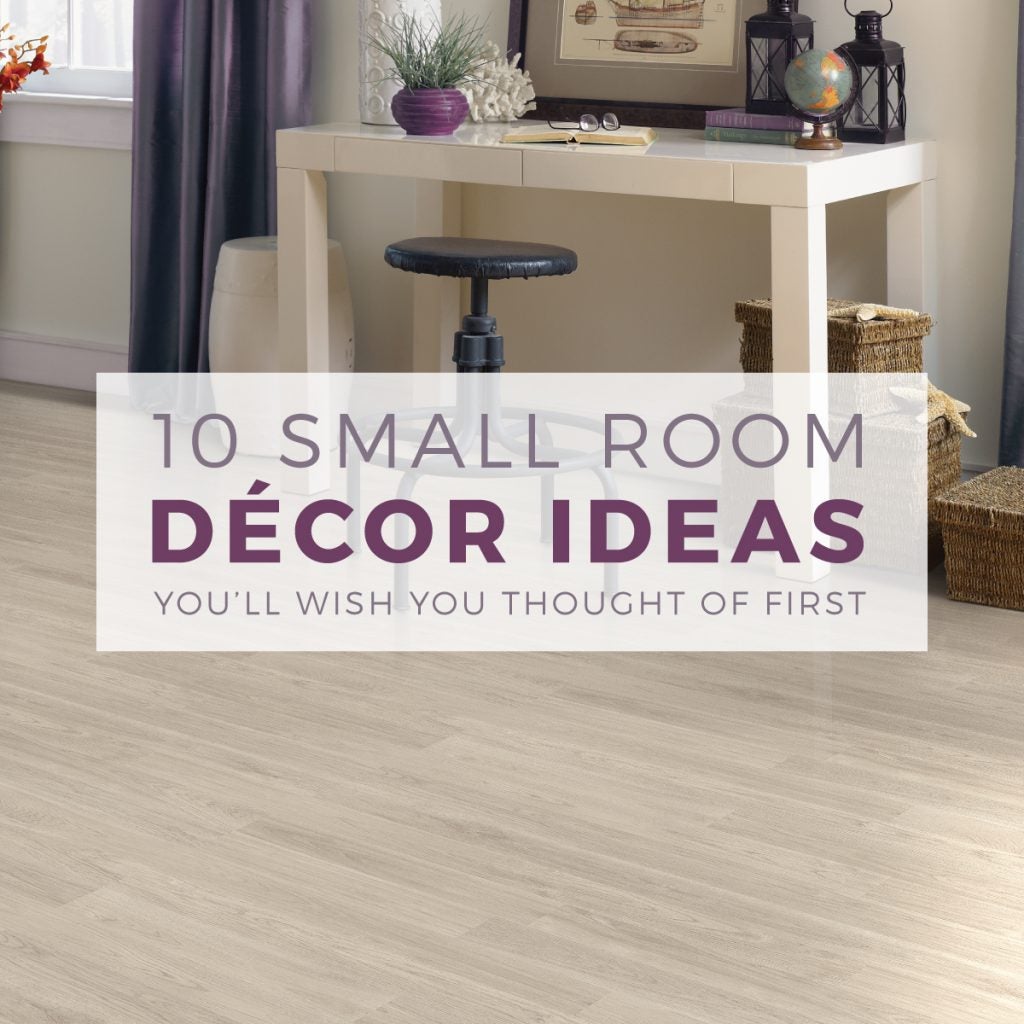 1. Always Remember: Less is More
One of the most important rules to live by when decorating a small room is "less is more". We know it sounds cliché, but having a clean minimalist look isn't just a new trend. The less clutter you have, the more open the space will look and feel.
2. Get Functional: Space-Saving Furniture is Everything
A house is not a home without the right furniture. When choosing pieces for your small room decor, choose ones that can help save space and fit your home's aesthetic. Having a bed with storage or shelving that can also be used as an entertainment center can help make decorating easier and more affordable.
3. Bright Colors Add a Bold and Open Look
Don't be afraid to be bold! Bright colors will not only liven up the space but can make it appear bigger. It can be as simple as painting the walls or as big as choosing the right flooring. Having flooring with light tones, such as gray or blonde, can add a fresh and clean look to your small room.
4. Wide Planks Can Make Floors Seem Less Busy
While wide plank flooring may seem like it can overwhelm a small space, it often has the opposite effect. Wide planks have less seams than narrow planks, making your floors appear less busy and the overall space more open. Remember, less is more.
5. Light Up the Ceiling with Pendant Lighting
If you want to avoid clutter, consider pendant lighting as an alternative to floor lamps. Not only do they provide you with extra space, but they can give the room a modern and chic feel.
6. Utilize Your Walls
Your ceiling isn't the only place you can add decor. Your walls can be used for much more than paint and wallpaper. Hanging bookshelves, picture frames, or contemporary art on the wall is a great way to customize the room vertically without taking up precious floor space.
7. Small Ottomans and Small Rooms Belong Together
The ottoman is one of the most useful pieces for small room decor. While great for seating or a spot to rest your feet, many small ottomans can also be used for storage. The less clutter, the better!
8. Get a Blank Canvas with White Cabinetry
If you're looking to decorate a small kitchen, cabinetry can play a big role. White or light gray cabinets set a blank canvas for you to have fun with other accent decor. Yellow dishes or blue chairs won't seem so distracting when your cabinets have a simple and fresh look.
9. Minimize Tabletop Décor
Between vases, greenery, and picture frames, decorating tabletops can become a bit much. If you have a small room, the simpler the better. Instead of adding multiple pieces, add one piece that will stand out. This will give your table a cleaner look.
10. Use the Proper Window Treatments
Blinds and shades can make all the difference in a room's overall look. While they can be the perfect finishing touch to the décor, they can also affect the room's appearance in size. What window treatment is ideal for small room decor? In addition to adding covers to your windows, blinds and shades are easily adjustable, which makes getting natural light easier.
When it comes to choosing the right color for your windows, you want them to blend with your walls. Having colors that contrast can make the space visually cluttered.
The Bottom Line for Small Room Decor
The key to finding the right small room décor is avoiding clutter. Making sure your room isn't too busy or cramped. A minimalist and clean look with bold accents, wide planks, and minimalism can help make a tiny room feel extremely inviting. If you want to give your small space an open aesthetic with the right flooring or window treatments, Schedule a FREE In-Home Estimate with us today.