Top US Cities for Farmers Markets
In the past decade, society, as a whole, has become more and more health conscious. Because of that, we are increasingly replacing not-so-good-for-you foods with produce-based alternatives, like spaghetti squash, cauliflower-based pizza crust, zoodles, and banana ice-cream. Unsurprisingly, this new health craze has led to a rise in the number of farmers markets around the nation.

So, which cities are the best for a trip to the farmers market? We compared the 100 largest cities in the US based on seven factors that have an impact on a typical consumer's farmers market shopping experience. Read on to learn what we uncovered in our study.
Methodology
To determine which cities were the best for farmers market enthusiasts, we compared the 100 largest cities in the United States based on these seven factors:

1) The number of farmers markets per 100k people
2) The number of farmers markets that accept credit cards per 100k
3) The average precipitation level in April
4) The average percentage chance of sunshine in April
5) The average cost of produce
6) The city's Walk Score
7) The percentage of land area made up of parkland.

Every city was graded on a 5-point scale for each of these factors, with a higher score meaning the city had more favorable conditions. They were then weighted based on their relevance and importance to the farmers market experience.
Findings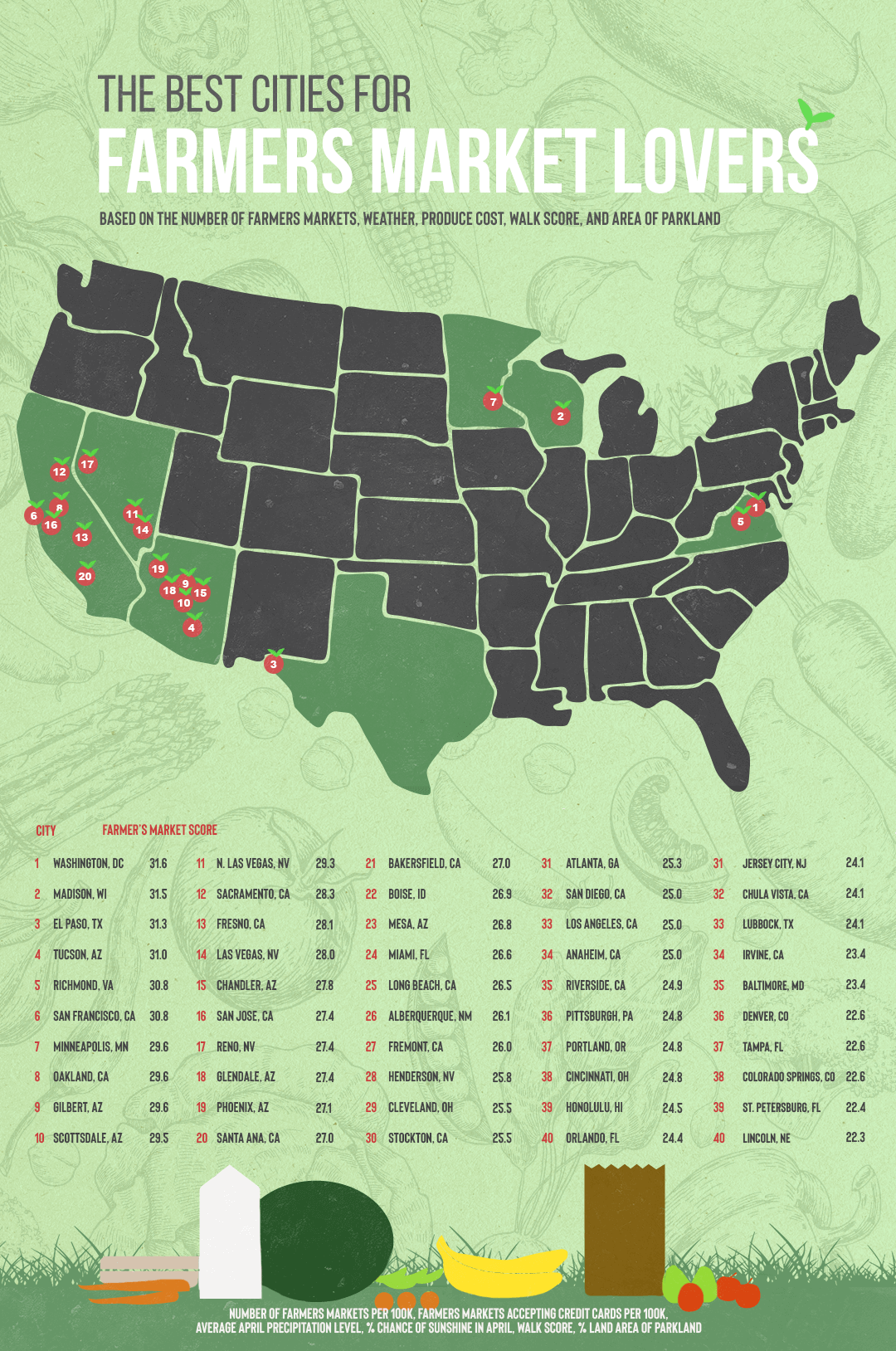 What city was the best, overall, for farmers market lovers? The nation's capital, Washington, D.C., came out on top with an overall score of 31.6 out of a possible 50 points.

While Washington, D.C. scored high almost across the board, it did falter in terms of the price of the produce sold there. In fact, it had the lowest score out of all 100 cities in terms of the average price of produce. Other cities scored well for the price of their produce, but didn't have as high a quantity of farmers markets per 100k residents or fell short in other areas.

Surprisingly, 6 of the top 20 cities, and 16 of the top 50, for farmers markets all came from California. San Francisco, Oakland, Sacramento, Fresno, San Jose, and Santa Ana had scores of 30.8, 29.6, 28.3, 28.1, 27.4 and 27.0, respectively.

Below, you can see the breakdown of the score for each of the top 50 cities: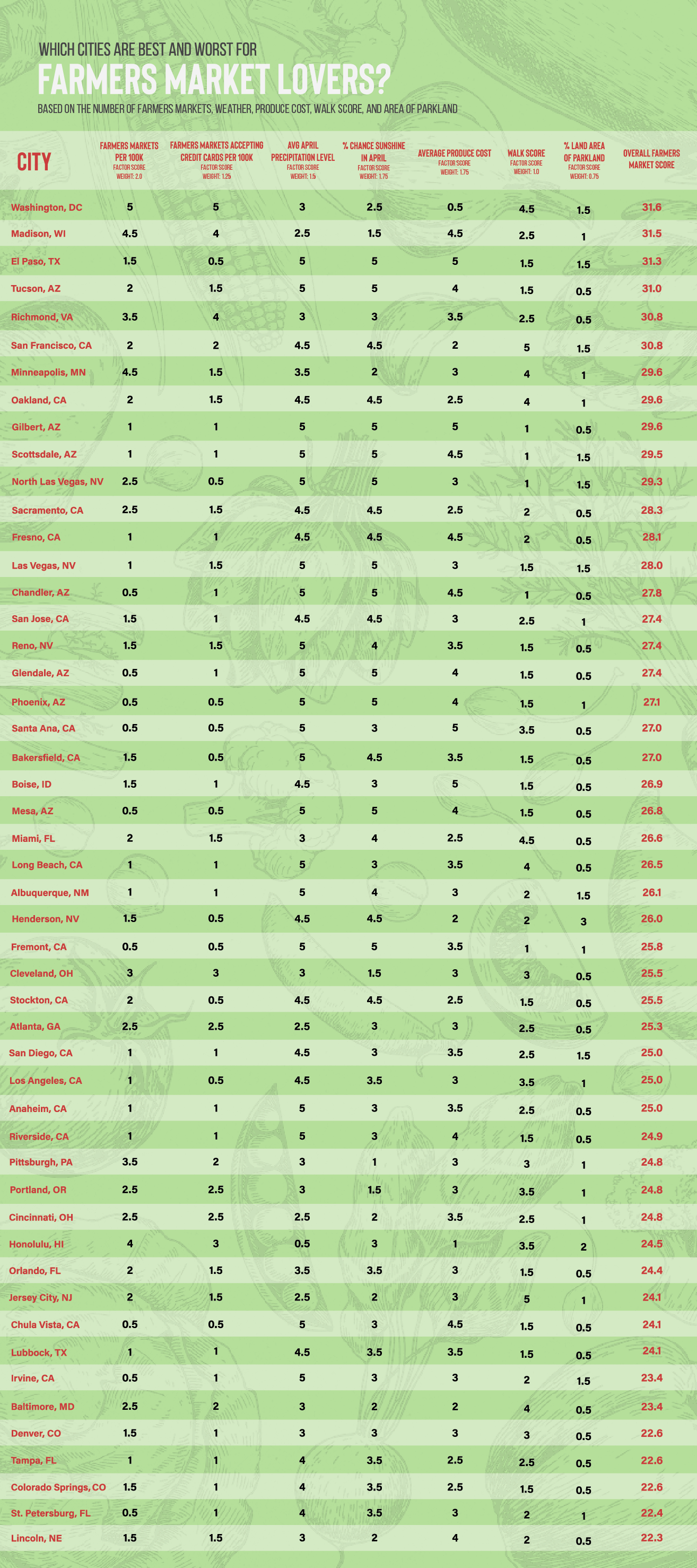 A common trend among the lower scoring cities is that they typically experience high amounts of rain in April, causing them to receive a low score for the weather-related factors. Weather is extremely important to the farmers market experience and rain can lead to low turnout and even cancellations. Nashville came in as the worst city for farmers market lovers as a result of their low walk score relative to the other cities. Additionally, they have a low number of both farmers markets per 100k and farmers markets that accept credit cards compared to the other cities in the study.

The weights and sources for each of the seven factors were:

Farmers Markets per 100k -- Weight: 2.0
Source: U.S. Department of Agriculture
Farmers Markets Accepting Credit Cards per 100k -- Weight: 1.25
Source: U.S. Department of Agriculture
Average April Precipitation Level -- Weight: 1.5
Source: City-Data average climate
Percent Chance of Sunshine in April -- Weight: 1.75
Source: City-Data average climate
Average Produce Cost -- Weight: 1.75
Source: Numbeo.com
Walk Score -- Weight: 1.0
Source: WalkScore.com
Percent Land Area of Parkland -- Weight: 0.75
Source: Trust for the Public Land Park Facts Report, and individual cities' published park information